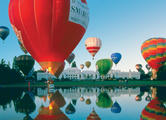 The Australian Capital Territory was established in 1911 within the borders of New South Wales as the site for the future national capital, Canberra.
Canberra is nearly 300km from Sydney and some 650km from Melbourne. A planned city, it is laid out around an artificial lake. The Territory became self-governing in 1989. National government remains its main industry, but private sector employment has expanded and includes production of sophisticated scientific and communications equipment, and computer software.
Hidden beneath the leafy surrounds is a thriving modern city with fun for the kids, a busy calendar of events and festivals, and stylish restaurants, bars and shops.
Explore Canberra's many national attractions, which hold and share the treasures of our nation. Celebrate Australia's proud sporting achievements, explore our unique political history, and reflect on stories of bravery and courage. See our country and people through the eyes of our artists, and experience Australian character through sound and film, books and engaging exhibitions.